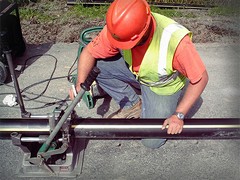 Precision Pipeline Solutions, LLC (PPS) completes a variety of utility construction services for our clients including replacements, new installations, leak repairs, and horizontal directional drilling. We also complete the higher technical range of construction functions including Regulator and Gate Station Installations, Hot Stop/Tap/Tie-ins, hydro testing, pipeline purging, and open water crossings.
Active Service Offering
PPS Personnel
Main/Service Installation
Steel/Plastic Pipeline Construction up to 16"
Cathodic Protection System Install
Live Gas Welding
HDD Boring for Main/Service/Casing/Conduit
Electric Manhole Rebuild/Reconditioning

Leak Pinpointing & Repair
Regulator/Gate Station Construction
Pipeline Hot Stop/Tap/Tie-in
Hydro testing / Nitro Testing
Bridge Pipeline Installs
Water Crossings
Our personnel are Operator-Qualified and experienced in gas pipeline installation and repair. Qualified crew members are also trained on electric manhole rebuilds, electric/gas joint trenching and HDD boring.
Crew foreman complete daily logs and logistical tracking information on tablet computers which are uploaded and reviewed by Superintendents to ensure job progress is on pace with project schedules.
The PPS Advantage
PPS's construction services were founded in the highly sensitive leak pinpointing and repair activities which require a high degree of technical skill and system understanding.
The PPS Advantage is that our construction services are complimented by our technical expertise in pressure control, coatings, and compliance inspections; we're not just here for the installation, but the continued regulatory compliance of your infrastructure.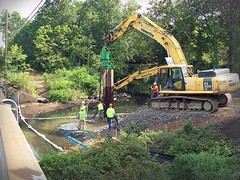 PPS Safety
Personnel wear PPE and operate according to a Health & Safety Plan which is created by PPS and approved by the client. On hand is a 20lb fire extinguisher, first aid kit, spill response materials, flame retardant suits and a SCBA.
Crew Foreman complete Tailboard Talks discussing ways to be alert and mitigate typical and environment-specific hazards; these safety briefings are documented and signed off by all workers and visitors to the jobsite/. PPS maintains a company-wide safety program, with many specific safety initiatives focused on the high risk areas of the work day.
Precision Pipeline Solutions, LLC (PPS) offers a turnkey Leak Repair Service to our customers. Activities include: pinpointing, repair, close-out and paperwork completion, including mapping. Our crews are experienced repairing gas leaks on cast iron, bare steel, wrought iron, ductile iron and plastic infrastructure which typically operate at pressures ranging from inches water column (low pressure) up to 125 psig.
Personnel
All crew personnel are trained on governing standards and are qualified to successfully perform leak repair activities on gas mains and services.
Equipment & Tooling
All crews are equipped with dump trucks, trailers, mini excavators, pickup trucks, and a PPS utility truck. Excavators may include attachments such as rock hammers with quick connect features as situation dictates. The tool set includes E-Z outs, probe bars, brass hammers, air cutters, cast iron rattlers, sand blasters, bar-hole purgers, and valve grease guns, as well as fusing, tapping and stopping equipment for main replacements. Additionally, PPS has the ability to renew existing services utilizing "no-blow" technology.
Methodology

PPS is given an address of a subsurface odor complaint. A supervisor retrieves all necessary records from the client's files, calls for site mark out, and then pinpoints the leak to check its classification and narrow the search pattern. A full PPS crew mobilizes to the site. The leak is exposed and repaired by tightening loose fittings; using clamps, encapsulations, anaerobic sealants; or, replacing pipe, services or meter manifolds. The site is backfilled and restored to specification. Gas readings are taken to close the repair. PPS files the paperwork with the client's files and closes the work order in the electronic system, completing an As-Built diagram complete with triangulations of the repair. PPS communicates with the utility and customer throughout.
PPS Safety
Personnel wear PPE and operate according to a Health & Safety Plan which is created by PPS and approved by the client. On hand is a 20lb fire extinguisher, first aid kit, spill response materials, flame retardant suits and a SCBA. Daily tailboard meetings are held and documented.
Quality Control
A work plan is completed for each repair service to ensure the repair activities adhere to the governing procedures. PPS documents its QC activities including performance audits. PPS aims to close leaks using safe and quality workmanship, while maintaining a trustworthy relationship with its customers.
PPS's leak repair services are complimented by our ability to provide additional Construction Services.