Precision Pipeline Solutions, LLC (PPS) partners with utilities to act as an extension of internal staff to complete high volumes of regulatory compliance inspections, recurring testing and surveys, in-situ repairs, and other support services. Our staff are experienced utility personnel, trained to meet your needs in a highly effective manner.
Active Service Offering
Electric Facility Inspection
Stray Voltage Survey, Assessment & Mitigation
Streetlight Survey, Testing and RFID installation
Joint Use/Attachment Survey
In-line Repairs

Storm Response Support
Contingency Support
Data Management
Integration with other PPS technical service offerings
PPS Advantage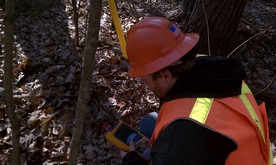 The PPS Advantage is that we take accountability for your regulatory compliance by providing fully scalable operational solutions utilizing our wide array of turnkey service offerings to deliver cost-effective consultation, inspection, construction, operations and maintenance services to the utility industry through our staff of safety trained and operator-qualified employees. During training, our personnel are equipped with the technical utility knowledge, navigation, and customer service skills required to successfully complete the inspection in a highly efficient manner. We cross-train employees to be able to deliver a fully turnkey product while on your footprint.
PPS Safety
At PPS, we live a safety culture that believes every injury or accident is preventable. Personnel act in adherence to our culture and wear PPE according to a Health & Safety Plan which is created by PPS and approved by the client. Our fleet is deployed to reflect and uphold the image of the utility client we are serving as well as give customers a sense of ease when we enter their property.
PPS Quality Control & Quality Assurance
PPS maintains a multi-layer approach to Quality: 1) Personal Accountability of each technician, 2) Project-level Quality Control performed by supervisory personnel, and 3) Company-wide Quality Assurance.
PPS Storm Response
Our company was founded to provide the utility industry with technical services and support all major aspects of your operations. Damages caused by storms and other natural disasters are an inevitable part of operating a utility system. Our personnel have responded to assist contract, utility, and more technically outfitted PPS crews to investigate trouble calls and report back to open work orders, perform pipeline investigations and wash out surveys, flag for tree-trimming and electric crews, and distribute emergency relief supplies to customers.
PPS Data Management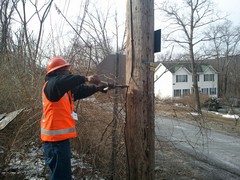 High efficiency and accuracy is directly tied to the effective use of technology in today's fast paced work environment. PPS has found that utilizing custom software for use with Tablet and other handheld devices can deliver the results necessary to manage, track, schedule, and report field information in batch or real-time basis; this is critical step to success of any large-scale program. As an integral part of being fully turnkey, our team links to client systems and feeds information to our field technicians to document the inspection in a fully paperless system. The software reduces human error by utilizing data validation and eliminates double-data entry on the client's side by sending the information digitally back to the client's systems. Additionally, clients can gain access to our web-based Utility Management System or UMS which tracks program progress by type and geographic, stores historical inspection information including pictures, and provides mapping overlays of the location.
Repairs Offered
PPS uses the 'universal soldier approach' to completing repairs either on an in-line or return trip program.
Cut/damaged ground wire
Reconnecting ground wire
Ground molding installation
Ground wire re-stapling
Transformer Banding

Guy Guard Installation
Angel Guard Installation
Pole Tag Installation
Reflector Installation
Vine Trimming